Diamond Circle Iceland - Real Pearl in The North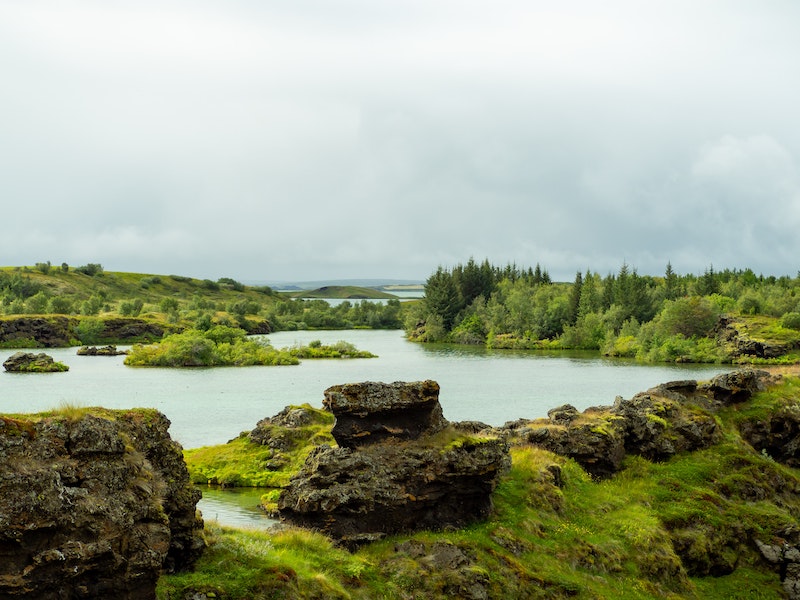 Lava Fields, Giants, Whales and Waterfalls


You have all the freedom of the open road with all of the opportunities presented by the natural beauty of Iceland. Along the road you'll see some of the sights typically saved for magazine covers, and you can do it all at your own pace. The Diamond Circle Iceland is one of those destinations.
Ready to brave the great unknown on your 4x4 Iceland camper van?
Check out some of these quick tips and tricks to navigating this
Northern Jewel in Iceland
:
What is the Diamond Circle? 


First off, you'll need to know what the diamond circle is. This is a popular track found in North Iceland that connects several major tourist destinations in the northeastern part of Iceland.
Locations such as Dettifoss Waterfall, Ásbyrgi Canyon, Namafjall hot springs, and Lake Mývatn can all be reached via this one route. And these are just some of the attractions to be made on this adventure, there's plenty more to see!
Some of which will be mentioned below, and others to be stumbled upon on the path. Altogether, this geographical Jewel in north Iceland is 162 mile long (260 km). Around 12 hours of activities to explore and stop at. Without stops, this route would be 4 hours. This is one road you're going to stop frequently for the right picturesque moment!
Even if you start out with a strict schedule, you're sure to see some things that will make you want to stop. So prepare to be dazzled! One thing is for sure is that the Diamond Circle in Iceland will be an adventure to remember!
Driving this route in a
4x4 camper van
is a great experience. You can travel at your own pace and take all the time in the world exploring. Option for further travel in to the Highlands (Iceland F-roads) is also a perfect idea as they are very close by.
Highlights on the Diamond Circle!
Husavik
This is typically regarded as the starting and stopping point, of the Diamond Circle Iceland, by many who take this path. It is also one of the best spots in Iceland other great activities. Whale watching and several smaller town attractions, can be explored while in town.

You can also stock up in the store and hit the road the next morning. We recommend you soak in the
GEO Sea geothermal baths
at least once on your stop there. It will totally recharge your batteries.
Lake Myvatn - Unesco World Heritage Site


Nestled in the North of Iceland,
Lake Mývatn
is one stop you cannot miss. This lake rests just below the area of an active volcano, and makes for an incredibly memorable hike. It is Iceland's fourth largest lake and covers approximately 14 square miles.
It is known as the "land of ice and fire" as the lake mixes with the geothermal activity from previous eruptions and makes a truly unique location. Lake Mývatn is also a popular destination for those fascinated with bird watching, as there are several species to observe here!
Due to the lakes unique geological and biological conservation values of the area. The fact that this is one of the richest breeding place for aquatic birds in the world. Lake Myvatn is a place of mystical beauty. About 115 species have been seen in the area breeding.
With nice climate and sitting on the North Atlantic ridge, Lake Myvatn, has been a farming area for thousands of years. Though farming is on the decline you still see considerable amount of farms and animals in the area.
Lake Mývatn is considered by many the highlight of the Diamond Circle in Iceland.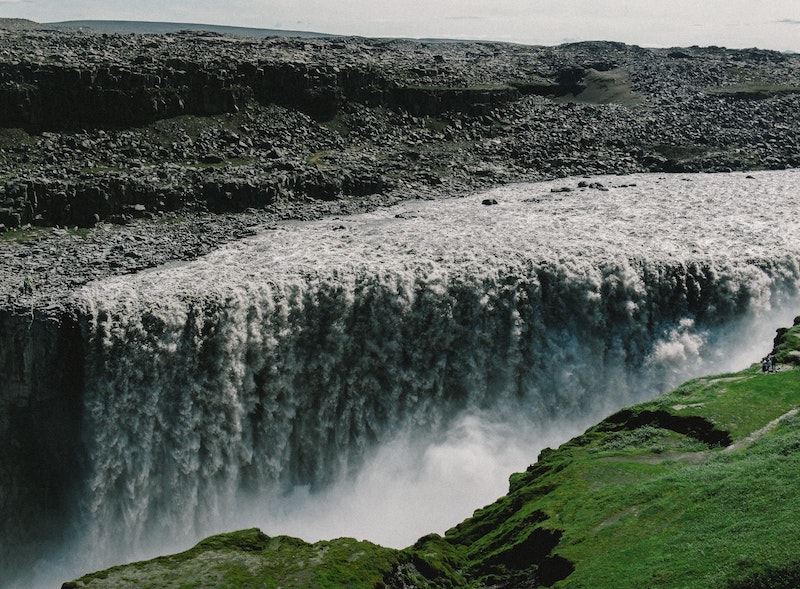 Dettifoss Waterfall


Don't forget to stop by Europe's most powerful waterfall! Here you can take a hike to get to one of the most magnificent sights in all of Iceland. The rushing waters create a breathtaking scene and you feel the natural power of the river.
The viewing platform is just close enough to get you close to the action but please be careful as the trail up close can be slippery. This a view you won't forget! Dettifoss is a popular destination not only on the Icelandic Diamond Circle but in the country in general.
This area has also been featured on the screen in Ridley Scott's Prometheus, making the opening scene so special. You can check out the trailer below.
Namafjall Geothermal area


It just wouldn't be Iceland without a stop at some hot springs! Namafjall is the proud home to springs with over 200 degree Celsius temperatures. (392F) Refrain from dunking, but be free to enjoy!
Mud pools added with a very strange odor from the geothermal activity will make you think that you are right in the middle of an unbelievable science fiction thriller by Michael Crichton.
There is really little else in the world that could mirror the magnificence of Namafjall's hot springs. All around this location there are little hills releasing smoke into the atmosphere to set the scene of a true Icelandic staple mark.
Asbyrgi Glacial Canyon - "Shelter of the Gods"


Is a charming glacial canyon found on the Diamond Circle, this will be one of the best stops on the trip! This is a horseshoe shaped depression found in one of Iceland's premiere National Parks. The Sagas say that Odins horse Sleipnir, stepped down, forming this unusual horse shoe shaped canyon.
Ásbyrgi Canyon is notable by its thick, lush vegetation and steep cliffs found all around the park. Canyon Ásbyrgi means "Shelter of the Gods", true to the heavenly theme Iceland boasts of. While there are several paths and sub tracks to take, be sure to make it all the way to the end of the canyon for some of the best views in the country!
If you can, we recommend you park your 4x4 camper van at the campsite inside the canyon. Spend the night under the giant canyon walls. An evening stroll, before bed, to Ástjörn pond is magical, better experience is hard to find in Iceland.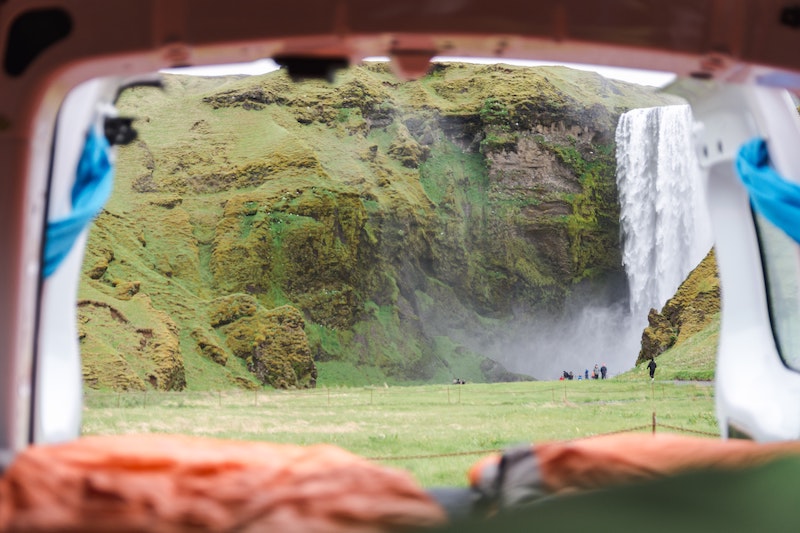 Godafoss Waterfall


A sight every traveler must see whether or not you take the circle or not! Goðafoss waterfall is one of the crown jewels of Iceland and acts as a true cascading, sparkling beauty! The translation of the name even means "Waterfall of the gods"! Goðafoss Waterfall is also one of the biggest waterfalls in all of Iceland! Here the river Skjálfandafljót feeds the scene, mixing with thousands of years old lava from the adjoining volcano.
What will I need to know?


Bring food! Iceland is an impressive stretch of natural beauty, and thus doesn't feature many grocery stores along the way. And while there are gas stations, don't ride the empty line! So stock up before you head out!
There are long stretches with no oasis in sight, so be sure to refuel whenever you see it available! During winter make sure you drive carefully as there might be snow and ice on the roads.
Other seasons are easier to navigate on the Diamond Circle Iceland. As a general rule if you are driving yourself, try to leave early so you can be back at a reasonable time. Generally speaking, the attractions on this road aren't overly crowded so planning your schedule around off-times is not necessary!
While there are camping places to stay, it may be good to book your campground ahead of time, as camp sites do fill up quickly. You can also
book your 4x4 Iceland camper van
ahead of time by contacting us before your visit.
That way you can be sure you'll have a sweet ride to travel the Diamond Circle in and won't have to worry about booking an expensive cabin or a hotel room to stay for the night!
[Go Back]