Icelandic Midnight Sun - A Spectacular Phenomenon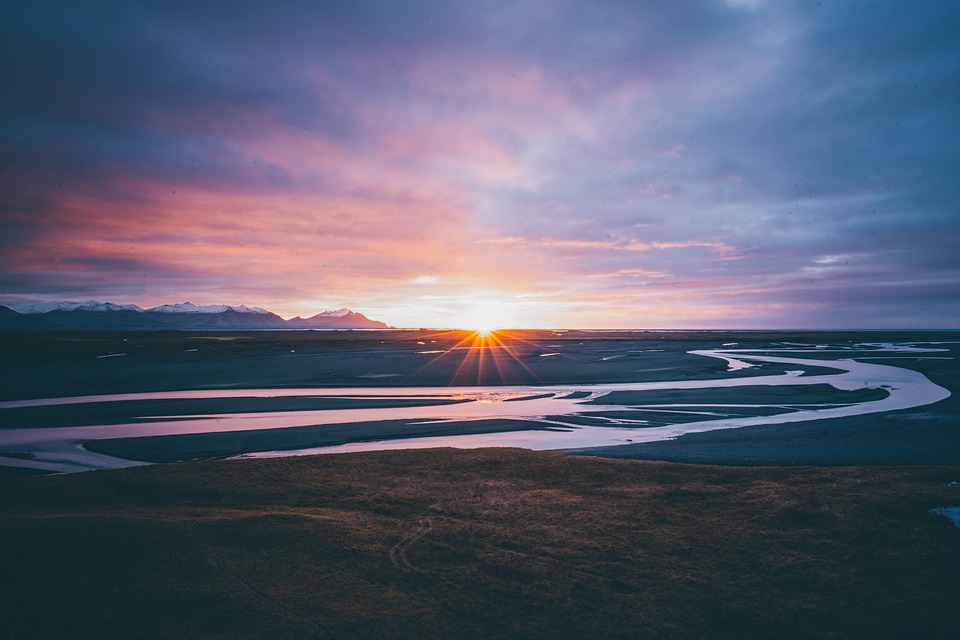 How to handle the Icelandic Midnight Sun
The Icelandic midnight sun refers to a time when the days get longer because of the rotation of the earth, as it travels around the sun during the summer season in the northern hemisphere. During the month of June, the days are the longest they'll ever be in the year. So long in fact, that there are a few weeks where there is no night time at all, and the sun barely sets before rising again, especially in north Iceland. Summer Solstice is a great time in our opinion to travel in a camper van.

During these weeks in June, there are days where the sun doesn't set at all, and instead radiates the sky with its illumination continuously. Making the Iceland summer night ready for adventure hikes and travel. This natural phenomenon is what we Icelanders refer to as the midnight sun, and is something tourists will find fascinating when visiting our island! Nothing beats traveling in an Iceland camper van and stay up late watching the midnight sun pass by. Later in this article we will give you some hints on Iceland activities and Iceland tours.
How do Icelanders sleep during the Icelandic midnight sun?
One question that gets asked frequently by visitors is "how do people get any sleep when there's always sunlight? That's actually pretty simple. Thankfully everyone typically has curtains they can pull to help keep the light from coming in. There are also black out curtains that we use that helps make it dark. But Icelanders really don't mind having to sleep during the Icelandic summer night.

After several winter months of working and living life in 18 hour darkness, it's quite nice having the Icelandic (midnight) sun back again. And it's something we celebrate! Don't get us wrong, we love the Icelandic winter and the magic that comes with it. But summer is brightening necessary.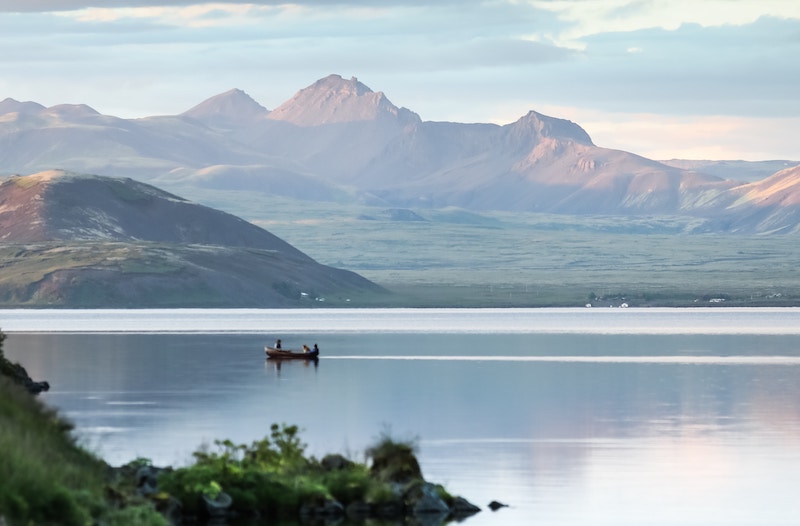 Sleeping trouble for visitors 
Trying to fall asleep for visitors during the longer days can be more difficult. With it being daylight constantly, many tourists find it a challenge for their mindsand bodies to adapt to the change, and can't go to sleep. If this happens, there's a couple of things you can try:- 

Wear a sleep mask.
If you're traveling in a camper van, trying to keep light from coming into your van can be impossible. We recommend taking a pair of sleep masks with you to help reduce the amount of light.- 
There is nothing wrong experience the midnight sun in your sleeping bag outside, so you could take advantage of that if weather is good.

Turn on some gentle music or white noise. 
Having some soft music playingin the background can help calm your nerves and make your body feelmore relaxed. White noise can also help calm your body down.-

Take a hot shower or a bath. 
If you're near a heated pool or have access to a shower or tub, consider running a hot bath to help relax your body.
Benefits of visiting Iceland during the Icelandic midnight sun season.
While the season in June is one of Iceland's busiest months, there are a few advantages for tourists to visit during this time. The primary reason is for all the adventurists and explorers who have a hard time calling it day - the longer days mean more hiking and mountain climbing.

The longer days also make it easier for those who are taking a 4x4 Icelandic Camper van on a road trip, as driving at night can be difficult, and you also miss a lot of scenic places. With longer daylight, there's more opportunity to pack your day with even more activities and things to do! Your only disadvantage is that while as a tourist, you'll be galavanting all over Iceland, all the other Icelanders will be sleeping, so most shops, cafes, stores and other places of business will be closed. 
How do Icelanders function during this time? 
Honestly, residence of Iceland are hardly raised at all during this time. Each day is a normal day for us, and everyone gets the right amount of sleep they need to be able to start their day fresh. We would say the winter months are more difficult to deal with, as having 18-hour of darkness makes it tough to get out and enjoy the outdoors. The winter during these months can keep Icelanders inside their homes for days or sometimes even weeks.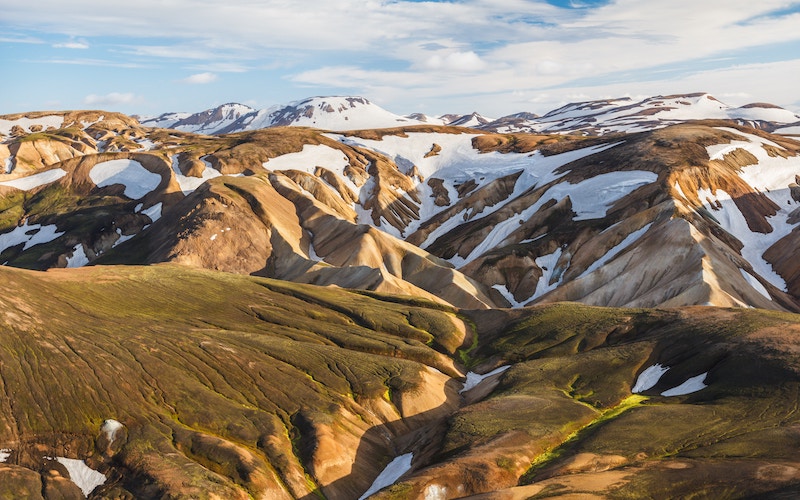 Things to do during the Icelandic midnight sun
As we mentioned, the extended daytime period is perfect for visitors looking to get some extra traveling in. While most guided tour agencies will be closed, there are still a few things you can do during the midnight sun. 
1. Visit a local bar downtown
While most stores are closed, there are a few bars and pubs that stay open late. For most visitors, it can be difficult winding down for the night (or day), so a nice glass of wine with friends can help warm your insides and help you relax more. 
2. Go on a photo excursion
Some of the most fantastic photos of Iceland's landscapes and skylines are during the midnight sun hours. If you love photography, then these hours are ideal for capturing some dynamic colors that the sun gives off against the purple, pink and orange sky. We have tour operators that take you into the night for the perfect shot.
3. Go horseback riding
There are some guided tour agencies that will let you go horseback riding in the beautiful grasslands of tundra. Many horseback rider have said that riding a horse into the midnight sun has a distinctive feel. The night has more quiet and stills. Whether that's true or not, horseback riding is something you'll enjoy during this time!


4. Attend the Secret Solstice music festival
The Secret Solstice music and cultural festival held in Reykjavík city is something music lovers should not miss. This has been a very popular festival in Iceland since 2014. Lineup is a mix of local talent and foreign super stars. Don't miss this adventure right under the midnight sun.


Pro tip :)
If you plan on exploring during the summer night, be sure to respect the local residents who are fast asleep. The majority of locals have to wake up early for work, so your courtesy is greatly appreciated!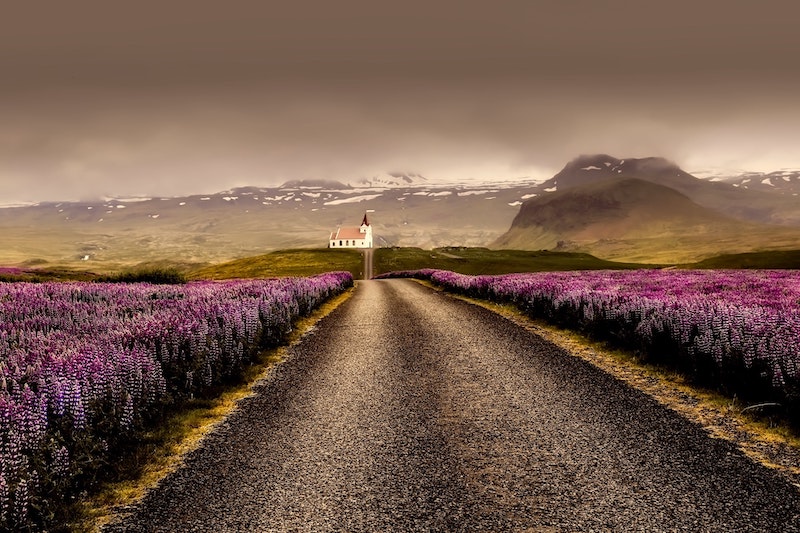 Don't forget to book your Iceland camper van! 
Experiencing the Icelandic midnight sun is best when traveling in a camper van. Be sure you book your Iceland camper van prior to arrival. We have options for everyone. Party of two or family of 5, we can accommodate your needs!

Don't hesitate to contact us with any questions for your dream holiday in Iceland. Our great prices will save you money on both gas and camper van travel in Iceland.
[Go Back]